Dr. Ahmad Bio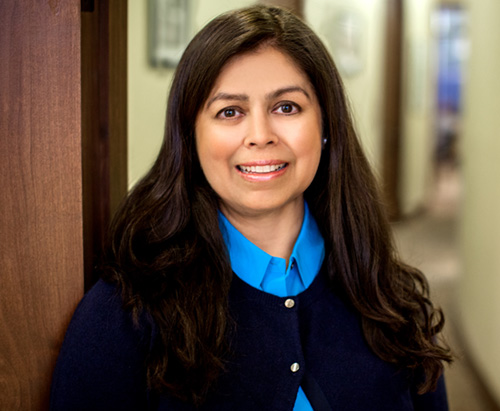 As a leading cardiologist in the Northeast Mesa area, Dr. Ahmad is known for her ability to reset the healthy living rhythm for a number of patients. Dr. Ahmad is a proponent of the fact that heart disease does not occur in isolation. Family and Environmental factors have a lot to do with heart disease. Dr. Ahmad is surprised to find comparatively younger people with heart trouble. These patients lead a healthy, active lifestyle, follow good habits, are nonsmokers, but they still encounter heart disease. Here, she believes the family related risk factors have a strong component to the cause of their disease.
Dr. Ahmad focuses on the patient's environment, as she is very proactive in approaching the individual with empathy. Firmly believing disease does not occur in isolation, she is a proponent of addressing more than the patient's physical needs. Dr. Ahmad also attends to the emotional ramifications of each and every disease process. As a result, this conscientious physician presents the proper advice for various treatment plans and strategy. Dr. Ahmad's philosophy is to encourage the patient to take control of his or her own health.
Las Sendas Cardiology offers consultations, diagnostic tests, and a unique and open communication with the specialist, Dr. Ahmad. Dr. Ahmad's mission is to engage her patients in a one-on-one conversation. This approach can lead to better outcomes, and, ultimately, result in the body and mind converging in a healing process. Dr. Ahmad's philosophy revolves around the concept of providing state-of-the-art medical treatment, complete with warmth and compassion. She believes open communication during each and every clinic visit repeatedly reinforces the established foundation of a sound patient-doctor relationship.
Las Sendas Cardiology has a focus on the following heart health areas: depression and heart disease, home environment and congestive heart failure, high blood pressure and certain environmental factors, family history risks and stroke and heart care for women. Dr. Ahmad believes women and heart disease is not only prevalent, but actually rampant. Her interest in women and heart disease encompasses all areas of this epidemic. Dr. Ahmad approaches the patient with empathy yet giving the patient the autonomy to choose the options in the various treatment strategies.
Las Sendas Cardiology has a beautiful office and is accepting new patients and patients who may want a second opinion on the current state of their heart health. When a patient visits the office for the first time, they will get one-on-one attention and a non-invasive, non-stressful assessment that includes vital signs, an EKG, weight check, blood pressure and pulse. Over the course of one hour, the staff will take the time to get to know the patient, their family history and any potential risk factors for heart disease. "We like to have the time with our patients," is the moto for both the office staff and Dr. Ahmad. For future appointments, stress tests and additional diagnostic testing, all done at the clinic, can be performed to further hone in on specific heart health issues. Most insurance plans are accepted including Aetna, Blue Cross Blue Shield, Cigna, Medicare, United Healthcare, Tricare, APIPA, AARP and other plans.
Dr. Afroze Ahmad brings Las Sendas Cardiology to Mesa. A distinguished cardiologist who listens.
Patient care, where every heart truly matters.